A Walk Yudonomichi,
old pilgrimage route of sacred Mt. Yudono (A)
Trip of Rokujurigoe-Kaido, Old pilgrimage route of Dewa.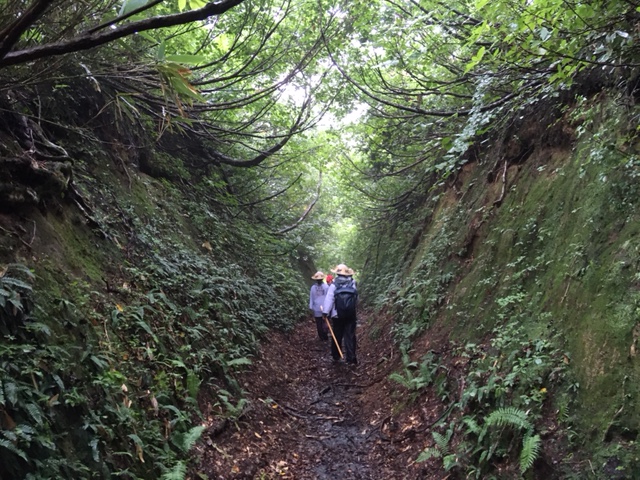 day-trip
[Tour Point]
One day trip with a skipper guide and an interpreter (English or Chinese). Highlight of Rokujuri-goe Kaido ancient pilgrimage route with 1200years history. You will walk from Nanatsudaki falls to Senninzawa creek along in the forest and steep passes, then head for Main shrine of Mt.Yudono to feel "the real Trip to Reborn in Three holly mountains of Dewa"
June 1, 2023 to October 31, 2023
(except August 10th to August 15th)
Course
Meal
Day 1
08:00 Depart S-Mall Bus Terminal → 08:10 Tsuruoka Station → 【Rokujurigoe-Kaido(Dewa's Pilgrimage) 】 → Start walking from Nanatsudaki falls parking ・・・ The ruins of Dokko-Chaya tea house ・・・ Ohonogi big pass ・・・ 12:30 Hosogoe-toge pass (Bento Lunch) - Zange-saka Hill ・・・ 14:00~15:00 Worship at Mt.Yudono Main Shrine → Mt. Yudono Resthouse → 16:50 Tsuruoka Station → 17:00 S-Mall Bus Terminal
Breakfast:×
Lunch:◯
Dinner:×
32,000
Per person /Same price for one child (elementary school student)
※infants not allowed
[Included in price]Chartered mini-bus、Warship fee、Lunch-box、Tour-escort、Mountain- Guide、Interpreter(Engligh、Chinese)
| | |
| --- | --- |
| Tour Code | dewakodo-A |
| Tour title | A Walk Yudonomichi, old pilgrimage route of sacred Mt. Yudono (A) |
| Days | day-trip |
| Maximum guest number | 10 |
| Minimum guest number | 4 |
| Caution | ※Participants must bring shoes suitable for trekking, warm clothes during winter, rainwear, and any other equipment the participant requires for a safe hike (trekking poles, suncap, sunglasses, etc.). Please bring your own water supply and food. |