Mindfulness at Zenpoji Temple (Zazen class, Shojin Ryori Cuisine, Hannya Shingyo Prayer)
Zenpoji Temple, one of the Three Main Soto Buddhist Temples in Japan, worships the Dragon God of water, a god linked to healing, agriculture, fishing, sea and fertility. Have a zen moment in this ancient temple, worshipped by all the fishermen in Northern Japan.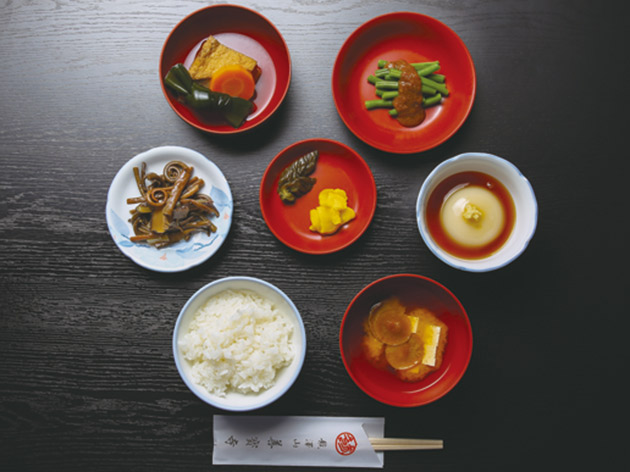 day-trip
[Tour Point]
This tour offers you to take part in a zazen class following the Soto Buddhist way of meditation. Zazen is a posture (a form of sitting) that allows you to meditate efficiently in order to attain "satori" ("the spiritual state of nothingness"). Contrary to other schools of Buddhism, Soto School does not make use of wooden sticks to "correct" participants. Hence, you can perform zazen at your own rhythm.
At the end of the experience, Zenpoji's monks will serve you their version of the Buddhist shojin-ryori cuisine. Buddhist shojin-ryori is a vegan meal that incarnates the Buddhist principle of non-violence and simplicity.
[What is Zenpoji Temple?]
Zenpoji Temple is one of the Three Main Soto Buddhist Temples in Japan. It is worshipped by fishermen throughout all of Northern Japan for the Dragon God of Water (in Japanese: Ryujin) sanctified inside. It is also loved by farmers and people with diseases, for that the Dragon God of Water is also associated with agriculture and healing. Behind the temple, there is a pond called "Kaibami no ike," where visitors can find a shrine dedicated to the Dragon God. People think the "human-faced carps" (carps with unusual markings on their heads that make them look human) are reincarnations of the Dragon God of Water.
[Cautions]
※If you have food allergies or restrictions (vegan, vegetarian, etc.), please let us know when you make a reservation.
※The order of the experience contents may change depending on the time zone.
Course
Schedule

8:30~9:00
Meet with the monk that will teach you how to perform "zazen."
9:00~9:30
Zazen experience.
(Participants who have difficulty sitting on the floor are allowed to sit on a chair)
9:30~10:00
Have the Shojin Ryori Cuisine
(You will share the same meal as the monks)
10:00~10:30
Attend the Hannya shingyo prayer, the "Great Wisdom sutra".
| | Course |
| --- | --- |
| Schedule(Use Taxi) | Tsuruoka station (7:50)―Zenpoji temple (8:15/8:30~10:30)―Tsuruoka station (10:55) |
【Meet at the venue】
7 people/1group
6 people/1group
5 people/1group
4 people/1group

4,500

yen

4,600

yen

4,800

yen

5,100

yen
3 people/1group
2 people/1group
1 people/1group

5,600

yen

6,600

yen

9,600

yen
(Per person /Same price for one child)
【Chartered Taxi】
〈Van Taxi 〉
7 people/1car
6 people/1car
5 people/1car
4 people/1car

6,400

yen

6,900

yen

7,500

yen

8,500

yen
〈Taxi〉
3 people/1car
2 people/1car
1 people/1car

8,800

yen

11,400

yen

19,100

yen
(Per person /Same price for one child)
A full year [1st April 2021 to 31st March 2022]
※Days Out of Service /New years holiday, Obon and Ohigan
Tour Code
FE0112-C
Tour title
Mindfulness at Zenpoji Temple (Zazen class, Shojin Ryori Cuisine, Hannya Shingyo Prayer)
Days
Day-trip
Region
Yamagata
Reservation Deadline
3 days before
Reservation time
8:00~、8:30~、10:00~、10:30~、12:00~、12:30~
14:00~、14:30~、16:00~